Royal Caribbean International Celebrates Steel Cutting and Reveals Name of Newest Ship For China: Spectrum of the Seas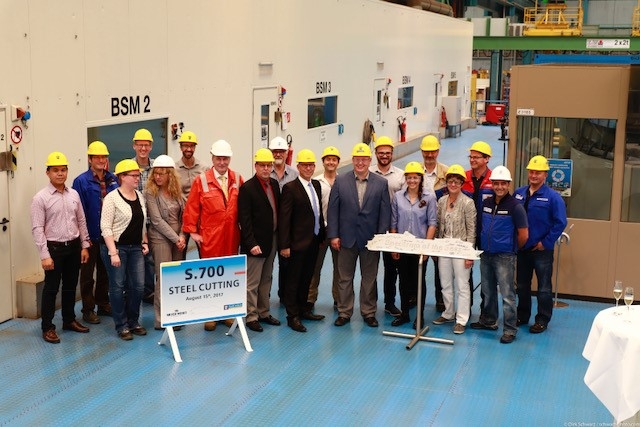 Excitement was in the air today (August 15, 2017) at the Meyer Werft shipyard in Papenburg, Germany, as Royal Caribbean International marked the official start of construction by cutting the first piece of steel for its new Quantum Ultra ship.
The next engineering marvel in the innovative cruise line's lineup will officially be named Spectrum of the Seas.
Set to debut in 2019, Spectrum will be the next evolution of the cruise line's groundbreaking and high-tech Quantum class of ships placing the ship in a new class of her own. The revolutionary Quantum Ultra ship will specifically be designed for guests in China and the Asia-Pacific region, and will feature cutting-edge and unprecedented experiences and amenities.
"Today is a very special day in the development of our new Quantum Ultra ship, Spectrum of the Seas. We are now one step closer to delighting our guests in Asia Pacific with this remarkable ship," said Michael Bayley, President and CEO, Royal Caribbean International. "Spectrum will be another giant leap forward in vessel design and guest experiences that will provide travelers with ample opportunities to create unforgettable memories."
(Royal Caribbean International, Meyer Werft)