Dubrovnik: welcomes one-millionth passenger for 2017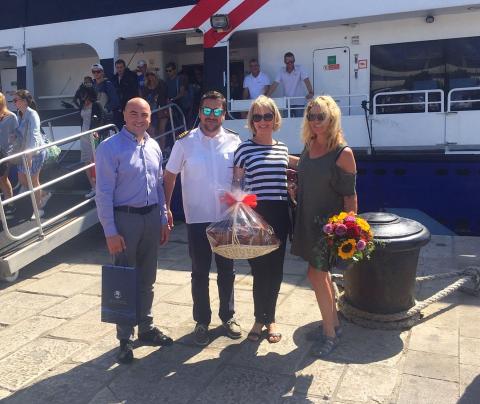 This year's millionth passenger arrived two days earlier than last year by speedboat Krilo Star on Wednesday 13th September at noon exactly at the operative quay at Gruž port. The lucky passenger, Ms. Barbara Rogers from Los Angeles was greeted by Mr. Blaž Pezo, General Manager of Dubrovnik Port Authority who presented her with flowers and gifts.
"I'm delighted to be in Dubrovnik and I'm pleasantly surprised by such a ceremonial welcome. I'm staying here for a week until my return to the U.S. During my vacation in Croatia, I visited Zagreb, Rovinj, Split and Hvar. This is my first visit to Dubrovnik. Surely, I will visit your beautiful city again", Barbara said cheerfully.
Mr. Blaž Pezo, General Manager of Dubrovnik Port Authority stated that this year the millionth passenger arrived at Dubrovnik port two days earlier than in 2016 and that the port expects a total annual port traffic increase of approximately 3%, reaching up to 1.400.000 passengers in 2017.
This season, from 24th April until 28th October, Krilo Star a speed connection between Dubrovnik and Split, from 23rd May until 09th October daily calling the ports of Pomena (Mljet), Korčula, Hvar and Milna (Brač).
The port of Gruž recorded 319 cruise calls so far this year and 124 more are announced to visit until the end of the year. It is important to emphasize that eight cruise vessels were welcomed to the destination for the first time, and two more new arrivals which chose Dubrovnik to be their cruise destination in 2017, are expected by the end of the season.