MedCruise Professional Development Course marked with success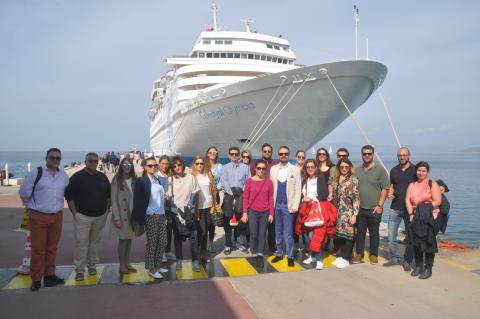 MedCruise members advanced their professional skills and knowledge during a most successful 2017 edition of the MedCruise Professional Development Course (PDC) that was held from 27 to 30 October 2017.
During three days cruising from Piraeus to Mykonos, Kusadasi, Patmos, Heraklion, and Santorini, the PDC participants had the opportunity to discuss best practices and attend a rich in terms of content programme.
Sharing best practices, costumer orientation innovation in the organisation, learning from the others, keeping employees engaged, prototyping the future, implementing change successfully, innovative thinking at work were discussed via during the first part of the course. The instructor was Jorge Bugallo (WIN+WIN Barcelona).
Chris Ashcroft (Cruise Insight) gave emphasis on the importnat points that a port s hould take in considaration when is marketing the port, while Serafín Blazquez (Intercruises) discussed in depth the cruise supply chain from the shorex and port agency side.
The second part of the course has been cocluded by Vassilios Gazikas (Celestyal Cruises) who gave a detailed presentation on the operational issues and the importance of specific information and port technical characteristics for the safe berth of the ship and the disembarkation and embarkation of the passengers and crew.
In Kusadasi, a MedCruise member port, the participants were welcomed by Aziz Gungor, General Manager of the Kusadasi port which is operated by Global Ports Holdings. The group had the oppotunity to visit the cruise terminal and be informed on the details regarding the daily operations.
The professional development course, which is organised periodically and offered by MedCruise as part of the services to its membership, received excellent evaluations by its participants.
The 2017 edition was realised with the kind collaboration of Celestyal Cruises in hosting the event on board Celestyal Olympia.