MedCruise joins Seatrade Cruise Global 2018 event and Presented the 2018 edition of the Association's annual Statistical Report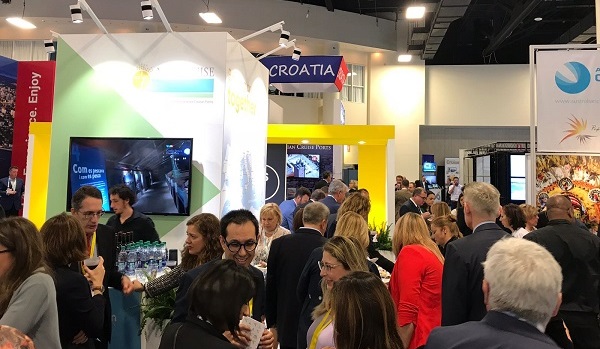 MedCruise was actively present at the 2018 edition of Seatrade Cruise Global event, held 6-8 May 2018, in Ft Lauderdale, US. The Association of Mediterranean Cruise Ports joined the event with its own stand, dynamically promoting cruise activities in the Med and beyond.
The MedCruise booth hosted numerous business-to-business meetings between member representatives and cruise industry professionals. For three successive days, the stand of the Association formed the meeting point of port representatives, cruise line executives, and other stakeholders, advancing cruise activities in the region.
During a special "Trends in the Med" session, MedCruise President Airam Díaz Pastor presented to the cruise world the 2018 edition of the Association's annual Statistical Report, covering in detail the "Cruise Activities in MedCruise Ports" during 2017. The exclusive MedCruise report is available to be freely downloaded via this link.
MedCruise President was also among the conference speakers; during the first day of the event Díaz Pastor joined the other expert panelists discussing "The Future of European Cruising".
The highlights of Seatrade Cruise Global included a welcome reception organised at the MedCruise stand, an event attended by cruise professionals that provided excellent networking opportunities to its members.
MedCruise would like to address a special thanks to its members that kindly sponsored the MedCruise reception, turning it into such a memorable and successful event.
MedCruise members and cruise lines renewed their appointment for Valletta and the 52nd MedCruise GA to be held 23-26 May.