Lisbon counts down to Seatrade Cruise Med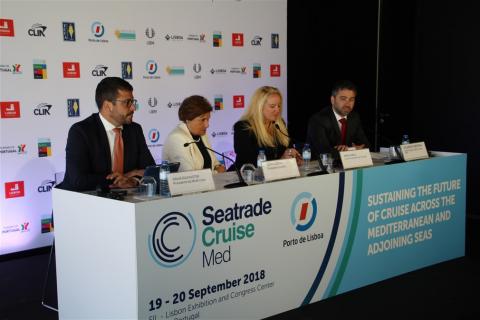 The Port of Lisbon Authority (APL) has begun the count-down to Seatrade Cruise Med 2018 – the world's largest cruise industry event focussed on the Mediterranean and adjoining seas – and this year, an integral element of the recently announced Portugal Shipping Week.
Hosted by the Port of Lisbon Authority and supported by MedCruise and Cruise Lines International Association (CLIA), the event will take place from 19 – 20 September 2018 and feature a showcase exhibition, conference and a full networking programme.
To date, 29 of the anticipated 150 cruise line executives have already confirmed attendance at this key industry event, including AIDA Cruises; Azamara; Carnival UK; Disney Cruise Line; MSC Cruises; Mystic Cruises, Norwegian Cruise Line; Royal Caribbean International; Sea Cloud Cruise Line; Silversea; TUI and Viking Ocean Cruises. In addition, more than 70 ports are expected to exhibit at the event which will also see the General Assembly of MedCruise take place on 21st September.
President of Port of Lisbon Authority, Lidia Sequeira stated that: "To host this prestigious event is recognition of the work we have been doing in the cruise sector for many years. The hope is that this event will give an important boost to the local and national economy of this sector, especially now that Lisbon is equipped with state-of-the-art facilities to welcome all the cruise ships and their guests."
As part of the two day cruise event, attendees will be able to visit the Lisbon Cruise Terminal, which opened its berths late in 2017. Lisbon Cruise Port (LCP), operator of the cruise facilities in the Portuguese capital and part of Global Ports Holding, invested approximately €22m a new terminal building which includes 360 car parking spaces; 80 bus/taxi parking spaces; ship stores area; automated gangways; latest CCTV technology and up to seven scanner inspection lines.
The terminal is served by a berthing quay of 1490 metres in length.
The top of the low level building also has a viewing platform providing a panoramic view of the River Tagus and cruise port on the one side and the city on the other. The facilities cover 13,800 sq mts in total. There are also a cafeteria, shops and crew facilities inside.
With the completion of the new terminal, the Port of Lisbon Authority estimates that current traffic continues to grow and that Lisbon becomes an important homeport for cruise ships.
Seatrade Cruise Med will look at all elements of the global cruise industry including shipbuilding which is currently valued at $57.3bn delivering 100 newbuilds between now and 2027.
This sector of the industry remains particularly buoyant across the Mediterranean, which encompasses shipyards stretching across the basin and into its adjoining seas boasting some of the most prominent expertise and skill in these sectors.
Ahead of this year's Seatrade Cruise Med, Emma Howell, Global Marketing Manager, commented: "The passenger ship build and repair sector is currently undergoing a remarkable period of expansion across the Mediterranean. As demand for cruise tourism continues to rise, so do the opportunities for regional shipyards – with local yards accounting for just under a third of all refits in 2017."
Whilst Italy's Fincantieri currently claims over a third of the 100 ships on order, many yards in the Mediterranean are now looking to get a foothold in the lucrative business of passenger-ship construction and repair. Portugal's WestSea Viana Shipyard is currently building the 9,300gt World Explorer for Mystic Cruises – a recent entrant to the expedition sector and confirmed exhibitor at Seatrade Cruise Med 2018.
Portugal's Lisnave has also broadened its activity within the cruise sector, having repaired 15% more passenger ships during the first nine months of 2017 than it had over the same period in 2016. Lisnave, along with West Sea – Estaleiros Navais, Lda, NavalRocha S.A and Arsenal do Alfeite, SA is confirmed to exhibit at Seatrade Cruise Med, helping to showcase the region's strength in this sector.
"The commitment from these four yards to exhibit at Seatrade Cruise Med 2018 is both a testimony to the buoyancy of the industry and unique catalyst for discussion on maintaining its promising future," continued Howell.
The exhibition at Seatrade Cruise Med will see a mix of ports and destinations, tourism authorities, cruise associations, ground handlers, tour operators, port agents, technical equipment and hotel suppliers showcasing their products and services to the cruise industry and include:
Arsenal do Alfeite, SA
CLIA
Cruise Arabia
CruiseBritain
Cruise Portugal
Florida Caribbean Cruise Club (FCCA)
Gibraltar Tourist Board
Intercruises Shoreside & Port Services
Lisnave
MedCruise
Mystic Cruises, SA
Navalrocha S.A
Puertos del Estado
West Sea – Estaleiros Navais, Lda
Alongside the exhibition is a comprehensive and refreshing look into industry trends impacting the regional cruise industry. With hand-picked speakers from across the industry, the topics will include: a Keynote Address – Industry Update by CLIA; a look at the State of the Industry; Meeting Future Demand in the Med and its Adjoining Seas; Best Practises to Mitigate Cruising's Carbon Footprint and Opportunities in New Destinations.
Mr. Airam Diaz Pastor, MedCruise President, commented: "MedCruise represents over 20% of the global cruise traffic with more than 100 members in the Black Sea, Red Sea, Adriatic, West and East Med and Near Atlantic."
He added: "25.9 million passenger movements were handled by MedCruise ports in 2017 with 28 million forecast for 2018.
"And together, we face the new challenges that the cruise sector is facing, including new buildings, the development of port facilities, the expansion of emerging source markets, as well as new regulations, and environmental and energy related issues. Events such as Seatrade Cruise Med present a platform to discuss these challenges and opportunities and we welcome this event in September as a crucial arena for discussion."
As well as numerous networking opportunities, an exciting initiative called '20 under 40' will be launched by the Seatrade Cruise News team to identify with the help of its readers, 20 professionals from the global cruise industry who are under the age of 40 and already proved to be extraordinary at work! An initial shortlist will be drawn up and reviewed by an esteemed panel of judges – the final 20 will be announced at Seatrade Cruise Med.
A highlight of the two days will also be the Seatrade Cruise Awards. Now in its twelfth year, Seatrade Cruise Awards continue to recognise and reward the very best of international cruise achievement and act as a catalyst for driving the continuous improvement of standards across the industry.
Seatrade Cruise Med is held biennially and is this year hosted by the Port of Lisbon Authority with principal sponsor and supporter, MedCruise (The Association of Mediterranean Cruise Ports), of which Lisbon has been a member since 2000. Principal regional sponsors include: Republica Portuguesa-Mar; Lisboa Camara Municipal; Turismo de Portugal; Turismo de Lisboa; Lisbon Cruise Port. Sponsors include: Gibraltar Tourist Board and Intercruises Shoreside & Port Services. Supporters include: CLIA and FCCA. Mercy Ships is the Seatrade Cruise Med Chosen Charity.
(MedCruise, Port of Lisbon Authority)