Kiel marks 150th cruise ship call this season. City welcomes maiden visit by P&O Cruises "Aurora"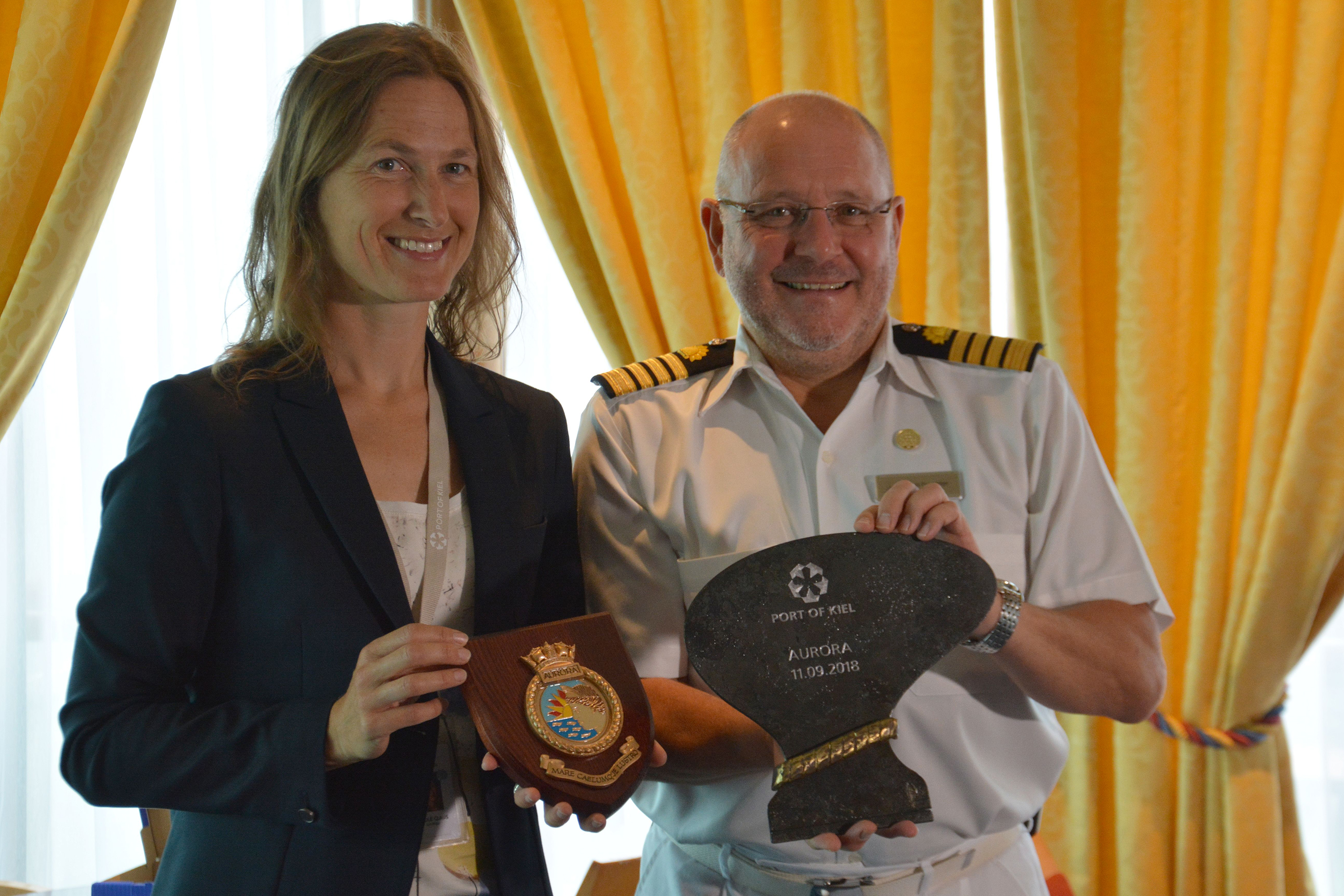 The cruise ship "Aurora", part of the fleet of the English shipping company P&O Cruises, arrived early Tuesday morning for her first visit to the Kiel Fiord. The ship's maiden call also marked the 150th visit to Kiel this year by a cruise ship.
Nicole Claus, Cruise Shipping Director of the PORT OF KIEL said: "Actually it's the very first time ever that we have registered 150 visits in a single season. The arrival today of the 'Aurora' is a milestone which underscores the development of Kiel into one of the leading cruise shipping ports in northern Europe", she added.
The port actually expects a total of 165 visits by cruise ships up to the end of this year's season in October and has already passed its previous record of 147 visits recorded in 2016.
While the more than 1,800 English-speaking passengers on board "Aurora" were using the visit for a range of day excursions ashore, Nicole Claus was welcoming Captain David Pembridge at a reception on board and presenting him with the traditional commemorative plaque awarded by the Schleswig-Holstein federal state capital of Kiel to ships visiting the port for the first time.
"Aurora" is the third P&O Cruises ship to visit Kiel and follows "Arcadia", which called in 2016 and 2017, and "Adonia" in 2014.
"Aurora" is on a 14-day cruise of Scandinavia and Russia, which began in Southampton on August 31st and has already taken the ship to Copenhagen, Helsinki, St Petersburg, Tallinn and Riga. During her stay in Kiel, "Aurora" is berthed at the Ostseekai Cruise Terminal. Because this facility is very close to the centre of Kiel, passengers have every opportunity to explore the state capital on their own, or to take part in a classic, organised excursion into Schleswig-Holstein itself.
The possibilities include guided tours of the Kiel Fiord, visits to the historic Hanse city of Lübeck and themed excursions to the metropolis of Hamburg. Also on the programme are panoramic trips to the seaside spa resort of Laboe and to the scenic region known as Holstein Switzerland.
"We look forward to seeing many international guests in our city", says Nicole Claus. "Kiel has a lot to offer its visitors and is an ideal stepping-off point for excursions into the whole of northern Germany", she adds.
In the evening, "Aurora" was leaving Kiel for Denmark's Skagen at the northern tip of Jutland and will end her current cruise on September 14th back in Southampton. The ship was built in 2000 at the Meyer Werft in Papenburg for P&O Cruises, which has in the meantime become part of the Carnival Corporation. "Aurora" is of 76,152 GT and is 270 m long and 32 m wide. She has 935 cabins for 1,874 passengers.