Amawaterways Partners With James Beard And Emmy-nominated Master Chef Ming Tsai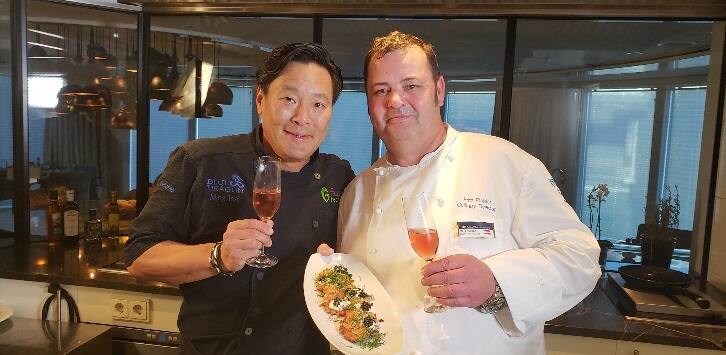 AmaWaterways proudly announces its partnership with Master Chef Ming Tsai's James Beard and Emmy-nominated public television series "Simply Ming," now in its 16th season.
Premiering on public television stations nationwide (check local listings), seven episodes of the series feature Tsai's epicurean adventures during the seven-night Captivating Rhine river cruise aboard the beautiful AmaStella. Season highlights include his culinary collaborations with AmaWaterways' Corporate Executive Chef Fritz Pilcher and AmaStella Chef Dhanyanto "Danny" Darmawan, visits to some of Europe's top restaurants, wine tastings and exploration of the Captivating Rhine signature ports of call.
"We are excited and honored to collaborate with Master Chef Ming Tsai to showcase the unique epicurean experiences available to AmaWaterways' guests during our cruises. Food and wine are such a vital part of discovering a new place or culture, and Chef Tsai's intrepid approach to immersive culinary travel parallels our own philosophy of river cruising," said Rudi Schreiner, president and co-owner of AmaWaterways.
Embarking in Amsterdam, Tsai's culinary adventures begin with a canal cruise and taste of Indonesian cuisine, a local favorite, before continuing down the picturesque Rhine River. In Cologne, he explores the city's famed UNESCO-designated Cathedral—home to the Archbishop of Cologne—and Old Town's iconic fish market Brunnen der Fischweiber, before cruising the castle-studded Rhine Gorge into France, and concluding the AmaWaterways journey in Basel, Switzerland.
"Filming 'Simply Ming' with AmaWaterways was an incredible experience. You cannot underestimate how wonderful it is to cruise right into the center of so many different charming sites and iconic cities and never have to pack and unpack. The convenience and practicality of being on a river cruise ship, combined with spot-on service and delicious food and wine, made the experience truly remarkable. Luxury is when you don't have to think of the next step, and AmaWaterways does a phenomenal job from the culinary experiences to the tours, and everything in between," said Tsai.
Back onboard AmaStella, Tsai and Fritz exchange recipes and a cocktail toast in The Chef's Table kitchen as they prepare char, a cold-water fish, two ways. Fritz features a regional favorite from the ship's menu, Reibekuchen, or potato fritters, with river char tartar, garden greens, lemon dip and caviar vinaigrette. Tsai presents his Arctic Char with Crispy Skin accompanied by a decadent foie gras and brandy sauce, and cauliflower rice. Enjoying the full AmaWaterways guest experience, Tsai also samples regional vintages served on board to pair with his meal
Cruising through the scenic UNESCO-listed Rhine Gorge to the winemaking town of Rüdesheim, Tsai explores some of the area's top vineyards before boarding the ship to sample Rüdesheimer Kaffe, a specialty coffee made with Asbach brandy, a specialty of the region, and topped with whipped cream. He returns to the kitchen with AmaStella's Chef Danny to showcase their distinctive takes on pork knuckles, a German staple.
Tsai presents his Ginger-Soy Braised Pork Knuckles with onion cabbage house fried rice as Danny gives a nod to Rüdesheim tradition with his Bierbrauer Haxe (served on board) or crispy pork knuckle, beer brewer style, served with creamy champagne sauerkraut, fried potatoes and herb crumble butter. AmaStella's Pastry Chef Roberta Rogosic rounds out the meal with dessert, sharing her secrets behind one of Germany's beloved sweet treats, the Black Forest Cake, a chocolate sponge cake with a rich cherry filling.
In Strasbourg, the capital city of French region known for its Alsatian wine, Tsai takes a tour of the local famers' market offering a wide selection of fresh produce and artisanal products. Following is a visit to the Cathedral of Our Lady of Strasbourg and a tour of the iconic La Petite France District, boasting charming half-timbered houses, fairytale cobblestone streets and a plethora of quaint cafés and restaurants. Tsai concludes his AmaWaterways river cruise with a stroll through picturesque Riquewihr, a delightful town located on the Alsace Wine Route, replete with winemakers' shops and tasting rooms.
Guests traveling on AmaWaterways' Captivating Rhine itinerary sail through cities and villages in the Netherlands, Germany, France and Switzerland. Optional land programs of two nights in Amsterdam pre-cruise and two nights in Lucerne or Zurich post-cruise are available.