Announcing 'Cuadro 44 by Anthony Sasso': Windstar Cruises Partners with Renowned Chef on Eclectic New Spanish Restaurant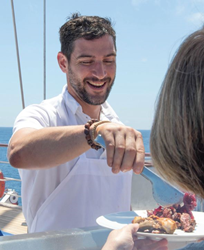 Windstar Cruises is taking its culinary program to the next level with its latest partnership: a new specialty restaurant named "Cuadro 44" in partnership with renowned chef, Anthony Sasso.
One of the youngest chefs to be recognized by the Michelin Guide, and celebrated guest chef at the James Beard House, Sasso promises a menu of modern and inventive Spanish cuisine inspired by his own travels across the Iberian Peninsula. Cuadro 44 by Anthony Sasso will first debut on Windstar's award-winning small ships, beginning in February 2020 on Star Breeze, and later in 2020 on sister ships Star Legend and Star Pride as part of the $250 Million Star Plus Initiative.
Sasso is known for his groundbreaking work at New York restaurant Casa Mono, where he spent 13 years and earned the restaurant a Michelin star 10 individual years. Sasso's connection to Windstar began in 2018, as guest chef on a James Beard Foundation Culinary Collection themed cruise in the Mediterranean. As an expert culinary guide on the Spanish Symphony sailing, Sasso led cruise guests on small-group "Shopping with the Chef" walking tours to local markets to procure fresh produce and local specialties to use in his onboard cooking demonstrations and wine-paired dinners.