Make business connections with Seattle's thriving cruise industry: "Cruise Connections Conference" – November 6, 2019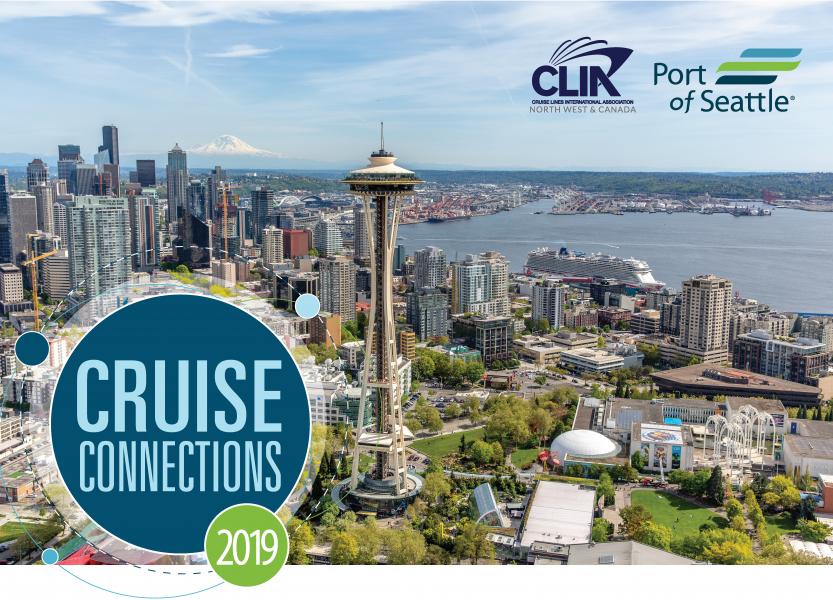 Local businesses, tourism partners, and community leaders are invited to connect with Seattle's thriving cruise industry at the "2019 Cruise Connections Conference", sponsored by the Port of Seattle.
Attendees will receive updates on the state of the cruise industry, learn about Seattle's position as a leading West Coast cruise homeport, gain insights on cruise travelers and how to reach them, and learn what products and services cruise lines purchase locally for their operations. Join us at this complimentary business and networking event to make your cruise connection.
Cruise Connections Conference
Wednesday, November 6, 12:30-6 p.m.
Embassy Suites by Hilton, Seattle Downtown Pioneer Square
255 South King Street
Program Overview
1:00 – 1:30 Registration
1:30 Welcome & State of the Industry
Cruise line executives from Holland America Group, Royal Caribbean and Norwegian Cruise Line will describe industry trends world-wide, market growth overall and how Alaska's continued popularity creates opportunities for Seattle's thriving cruise industry. The discussion then turns local and examines how the Port of Seattle is planning for the future with a continued priority in environmental stewardship, local provisioning, and supplier partnerships.
2:30 Connect with the Consumer
To connect with the Alaska cruiser, you'll want to know as much about them as possible. Cruise lines are masters with audience segmentation, promotions, and delivery of travel dreams. Marketing experts from leading cruise lines will share passenger profiles describing who visits Seattle and what they expect from their travel experience. You'll also hear the latest cruise passenger survey findings where you'll discover what cruise travelers do, how long they stay, and how much they spend when during a typical visit the city, the region and the state.
3:30 Networking Break
4:00 Pre- and Post-Cruise Opportunities and Partnerships (choose from 2 sessions)
As a cruise homeport Seattle and the region have the potential to interact differently with cruise guests. What does this mean for cruise lines, cruise tour operators, the retail trade, lodging businesses, attractions and the Port? Gain insight and ideas about how businesses work to reach and impact cruise travelers business prior to or post an Alaska cruise.
4:00 Supply Chain Connections (choose from 2 sessions)
Cruise ships are small cities with many needs. Learn what cruise lines are buying, which items are sourced in Seattle and requirements for vendors. Meet the key players and learn how products and services make it on to the ship. Cruise lines provide exceptional culinary experiences on board every cruise. That extraordinary meal begins with quality ingredients. Find out what's on a cruise ship's grocery list each week and learn about the potential of providing those products. The discussion then turns to marine suppliers and vendor opportunities. This discussion will cover what cruise lines are buying on the operations and technical side, what services they require while they are in port, and the regulatory requirements for delivering to a vessel while in port and for boarding the vessel to conduct work.
5:00 pm to 6:00 Networking
Join cruise, tourism, local business leaders, and others in a lively networking session sponsored by the Port of Seattle. Stay connected to Seattle's commerce and tourism industry and join us see how you can benefit from a cruise connection on Wednesday, November 6 from 1:00 pm – 6:00 pm.
To register:
https://www.portseattle.org/events/cruise-connections