Amawaterways Named Ensemble Travel Group's 2019 U.s. River Cruise Partner Of The Year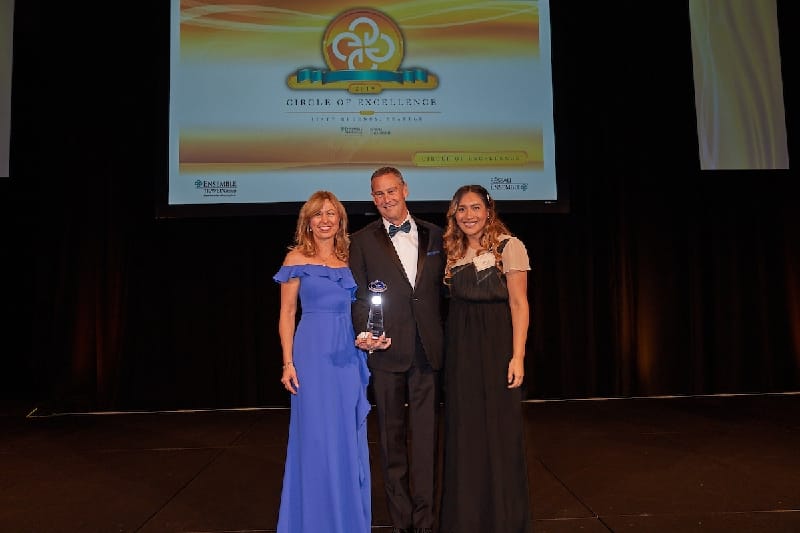 AmaWaterways proudly announced it was named the "2019 U.S. River Cruise Partner of the Year" by Ensemble Travel Group, as voted on by the group's top-tier travel advisor members.
The distinction, received for the second year in a row, reflects AmaWaterways' superlative guest experience and support of the travel advisor community through innovative resources and new programs. Kristin Karst, executive vice president and co-founder of AmaWaterways, and Elizabeth Contreras, manager of national accounts, accepted the award on behalf of AmaWaterways at the Ensemble Circle of Excellence Gala Dinner, held at the Hyatt Regency Seattle as part of the Ensemble Travel Group 2019 International Conference.
"The foundation of AmaWaterways has always included a true partnership with travel advisors, who play a vital part in our company's success," said Karst. "We are so honored to be recognized again this year for our support of the Ensemble Travel Group travel advisor community and look forward to continuing to work together to deliver unforgettable river cruise experiences for their clients."
Ensemble Travel Group's membership of more than 763 independent travel agencies in the United States and Canada based their selections on three key performance areas: quality of customer service, level of agency support, and client satisfaction. This year's event, themed "Travel with Purpose," was designed to explore the changing priorities of travelers and highlight the importance of social purpose and change in the travel industry. The conference also celebrated Ensemble Travel Group's yearly achievements as one of the most prominent travel advisor organizations with a record of boosting members' profits and delivering high-volume sales to its preferred suppliers.
(AmaWaterways, Ensemble Travel Group)