Francesca Antonelli, head of cruises of the Port Authority of Valencia (PAV), elected senior vice-president of the Association of Mediterranean Cruise Ports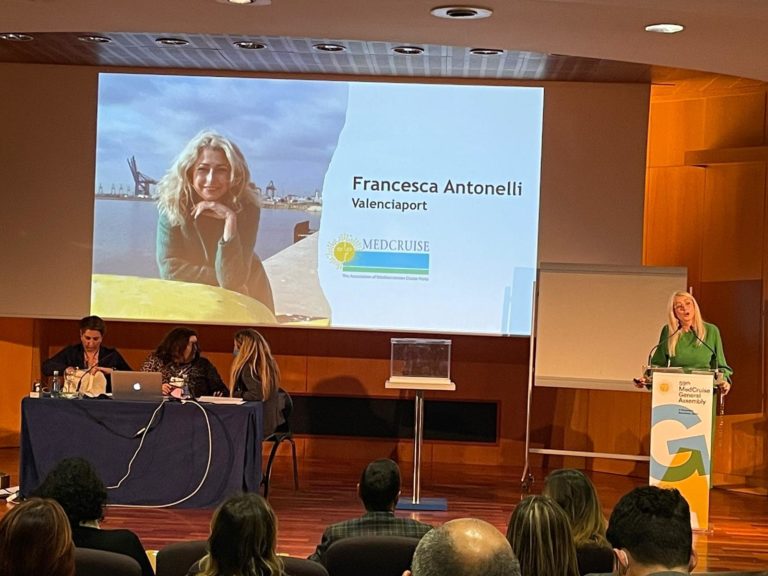 The head of cruises of the Port Authority of Valencia (PAV), Francesca Antonelli, has been elected as the new senior vice-president of the Mediterranean Cruise Ports Association (MedCruise).
The elections were held during the 59th edition of the MedCruise Assembly held in Barcelona where Figen Ayan, director of Galataport Istanbul was appointed as the new president of the Association.
Lorenzo Vera, representative of the Port of Motril, who has been elected vice-president, and Elisa Zamora of the Port of Tenerife have also joined the new MedCruise board of directors.
Francesca Antonelli, who was running for the post together with representatives of the ports of Tenerife, Sardinia, Genoa and Civitavecchia, congratulated all the members of the new board of directors and representatives of the different ports who took part in the assembly.
"We are going to continue working with all the agents involved to adapt to the new times and needs of both the sector and the cities that welcome cruise passengers, offering new experiences in the destinations and with all the guarantees of safety".
Along these lines, the General Assembly also outlined the new lines of work that have focused on actions to fully achieve normality for cruises after the COVID-19 pandemic.
MedCruise has the mission to promote the cruise industry in the Mediterranean and its adjacent seas. The Association helps its members to benefit from the growth of the cruise industry by providing networking, advocacy and professional development opportunities. It was created in 1996, through a partnership agreement between 16 ports from seven different countries. The Association now covers 21 countries, represents 140 ports and has 34 members.
The Port of Valencia, a point of reference
MedCruise recognised this year the work of Valenciaport during the pandemic for the strategy in social networks, an award which recognises the work carried out in 2020 by the port community of Valencia during the COVID-19 pandemic and the support for the cruise sector in a complicated year for this industry.
An activity which, after 15 months, was resumed on 27 June last with the arrival in the city of the Mein Schiff 2. The cruise ship operations comply with the safety and prevention measures set out in the "Protocol for the control and prevention of COVID-19 for cruises on passenger ships docking in ports of the Valencian Community" established by the Regional Ministry of Health.
The city of Valencia is a medium-sized and sustainable cruise destination, with annual growth of 2%, some 400,000 visitors and 200 stopovers/year. Thus, the PAV forecast for a normal year before COVID-19 was around 450,000 tourists for this year. After the pandemic hiatus, the sector is returning to normality and the expected port calls in the last quarter of the year reflect figures similar to a normal year.