The Cruise Division Of MSC Group Breaks Ground In Miami For North America's Largest Cruise Terminal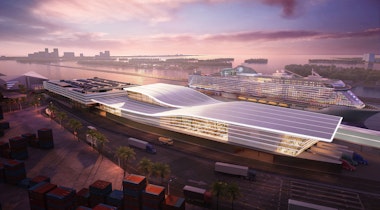 The Cruise Division of MSC Group today broke ground for its new $350 million mega cruise terminal in Miami which when it opens will be North America's largest.
The four-storey building with four embarkation decks will be able to accommodate up to 36,000 passenger movements a day, and feature enough berthing space to serve three latest generation ships simultaneously.
The project will allow MSC Cruises to further its presence in the North American market and attract more international travellers for holidays at sea in the Caribbean.
The Cruise Division of MSC Group and Italian ship builder Fincantieri announced a partnership in July 2021 whereby Fincantieri Infrastructure would construct the state-of-the-art facility which will feature a striking design by award-winning global architecture firm Arquitectonica.
The new terminal will be able to accommodate MSC Cruises' largest and most environmentally advanced cruise ships, including its current flagship, MSC Seashore, and the line's future liquified natural gas-powered World Class ships. Most ships at berth at the new Miami terminal will be able to plug in to the local power grid, in line with PortMiami's plans to enable shore power connectivity.
MSC Cruises added that the new terminal in Miami demonstrated its commitment to enhance its attractive Caribbean Sea sailings for its guests, all who will enjoy the experience before they have even stepped on board one of its ships.
It is also part of its larger ambition to deploy some of its most modern and environmentally advanced ships in Miami, all of whose itineraries will call its stunning Ocean Cay MSC Marine Reserve private island.
The new terminal is currently projected to be completed by the end of 2023.
Summer 2022:
Sailing out of Miami and Orlando (Port Canaveral), two of MSC Cruises' glamorous ships will call at Ocean Cay MSC Marine Reserve, the Company's private island destination in The Bahamas. On the island, guests can spread out and relax with more than two miles of pristine, white sand beaches as well as enjoy a variety of ocean discovery activities like paddle boarding — day or night — kayaking and more.
● MSC Seashore, the Company's flagship, will homeport in Miami and offer alternating Eastern and Western Caribbean itineraries, always calling at Ocean Cay; and
● MSC Divina will homeport in Port Canaveral, sailing to Ocean Cay and Nassau with three- and four-night cruises and Ocean Cay and Mexico with 7-night cruises. MSC Divina will also offer a stunning 12-night cruise at the start of the summer season, embarking in Miami, visiting Jamaica, Aruba, Colombia, Panama, Costa Rica, Honduras and Ocean Cay, before finishing at Port Canaveral.
Winter 2022-2023:
MSC Cruises' latest ship MSC Seascape will spend her inaugural season in Miami along with MSC Divina whilst MSC Meraviglia will sail from Port Canaveral.
● MSC Seascape will offer 7-night itineraries out of PortMiami (U.S) on Sundays calling at the eastern Caribbean calling at Ocean Cay MSC Marine Reserve and Nassau in The Bahamas, San Juan in Puerto Rico, and Puerto Plata in the Dominican Republic and the Western Caribbean also calling at Ocean Cay MSC Marine Reserve, Cozumel in Mexico, George Town in the Cayman Islands and Ocho Rios in Jamaica
● MSC Divina: based out of PortMiami (U.S), each cruise will call at Ocean Cay MSC Marine Reserve and the ship will offer a range of 3 to 10-night exciting itineraries, with visits to Belize City (Belize), Isla de Roatan (Honduras), Costa Maya (Mexico), Ocho Rios (Jamaica), Cartagena (Colombia), Colon (Panama), Puerto Limon (Costa Rica).
● MSC Meraviglia: sailing from the newly established MSC Cruises homeport Port Canaveral/Orlando (U.S), will offer cruises between three and seven nights to the Caribbean with destinations including Nassau and Ocean Cay MSC Marine Reserve (Bahamas), Costa Maya and Cozumel (Mexico) and Belize City (Belize).