Tauck Expanding U.S. Cruise Offerings in 2023 With New York-to-Quebec Itinerary. Tauck's 2023 Small Ship Cruising Portfolio to Feature 100+ Departures of 18 Journeys Aboard 16 Ships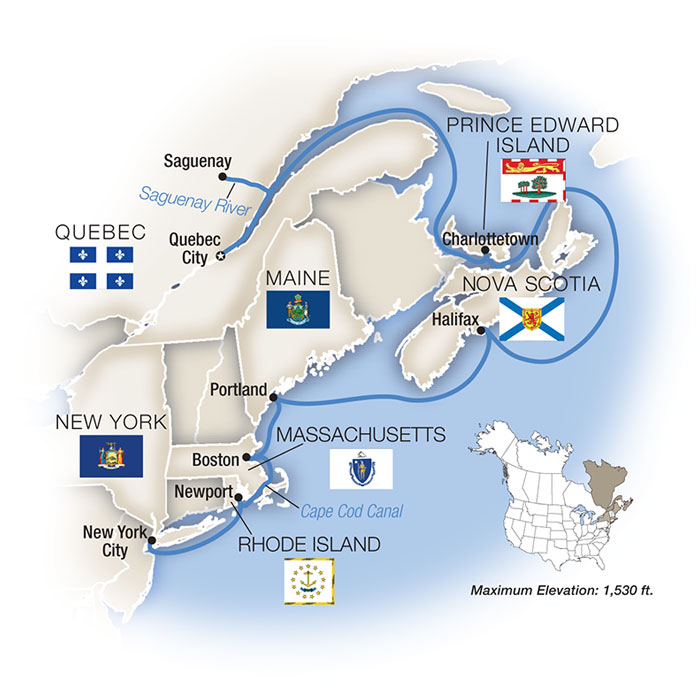 Tauck has announced it will offer small ship ocean cruises from New York City to Quebec City aboard the Silversea ship "Silver Shadow" in the fall of 2023, marking the company's latest expansion into domestic cruising and furthering its partnership with Silversea.
The new 13-day "Shores of Eastern Canada and New England" itinerary will include three northbound Manhattan-to-Quebec City departures along with three southbound trips, all in September and October of next year.
The new cruise follows the 2019 introduction of Tauck's "Cruising the Great Lakes: Chicago to Toronto" itinerary.
Elsewhere in the U.S., Tauck has also featured a cruise along Alaska's Inside Passage as well as a 15-day "Grand Alaska" combination land tour/seven-night cruise in its portfolio for many years.
"We've seen tremendous interest in our Alaska and Great Lakes programs – we essentially sold out across the board this year – and we're excited to expand our domestic cruise offerings for next year with this wonderful new journey," said Tauck CEO Dan Mahar.
The new Tauck itinerary begins with an included overnight hotel stay at the New York Marriott Marquis in Times Square, followed by a day of guided sightseeing in Manhattan. Guests embark the Silver Shadow that afternoon for a 10-night cruise to Quebec City, highlighted by ports of call in Newport, Boston, Bar Harbor, Halifax, Charlottetown (Prince Edward Island) and Saguenay (Quebec) before arriving in Quebec City. There, guests will explore the city on a sightseeing excursion before venturing out to tour the pastoral island Ile d'Orleans and experience stunning Montmorency Falls. The journey concludes with a farewell reception, dinner and overnight accommodations at Quebec City's iconic landmark hotel, the Chateau Frontenac.
INCLUDED HOTEL STAYS IN MANHATTAN AND QUEBEC CITY… AND MORE
Although Tauck's guests will be sharing time aboard Silver Shadow with Silversea's other (non-Tauck) passengers, the Tauck guests will enjoy a markedly different experience, according to CEO Mahar. "Silversea does an incredible job, and we're thrilled to partner with them on this journey," said Mahar, "yet we like to think we're bringing something extra to the table for our Tauck guests."
For example, Mahar noted, Tauck includes the hotel stays and sightseeing in both Manhattan and Quebec City in its prices as part of its standard itinerary. In addition, Tauck offers 100% of its shore excursions at no additional charge, while Silversea includes only a selection of shore excursions in its prices. And Tauck's shore excursions, added Mahar, are designed and operated exclusively by the company, all leveraging Tauck's 97-year history of guiding award-winning land tours.
"We take great pride in our ability to reveal the culture and history of a destination, and each of our shore excursions are Tauck-exclusive experiences typically led by our local guides in tandem with our own Tauck Director guides." The Tauck Director guides also see to the onboard and onshore needs of Tauck's guests throughout the trip, added Mahar.
Tauck's "Shores of Eastern Canada and New England" itinerary is priced from $8,990 per person, double-occupancy, plus airfare. (From $11,680 CAD, £6,760 and $12,660 AUD). Included in the cruise price – along with all shore excursions and the Manhattan and Quebec City hotel stays – are all gratuities, airport transfers, luggage handling, port charges, taxes and more.
30 YEARS AT SEA, AND A GROWING PARTNERSHIP WITH SILVERSEA
2023 will mark Tauck's 30th anniversary offering small ship ocean cruises, and next year the company will operate more than 100 sailings of 18 small ship cruising itineraries exploring North America, South America, Europe, Asia, Antarctica and the Arabian Peninsula on a fleet of 16 different ships. Tauck already operates other cruises aboard select Silversea vessels, including the Silver Origin and Silver Muse. Tauck's primary maritime partner remains Ponant, with Tauck featuring a total of nine different Ponant ships (including five of its six new Explorer-class vessels) on various itineraries around the world.
About Tauck: Founded in 1925, Tauck is a world leader in upscale guided travel, with more than 150 land tours, safaris, river cruises and small ship ocean cruises to 70+ countries and all seven continents. In each of the last 25 years, Tauck has been honored in Travel + Leisure magazine's annual "World's Best Awards" celebrating the very best in luxury tours, cruises, hotels and more.
(Tauck)