Meyer Werft: 6930 years of shipbuilding experience honoured. Meyer Group has once again honoured its employees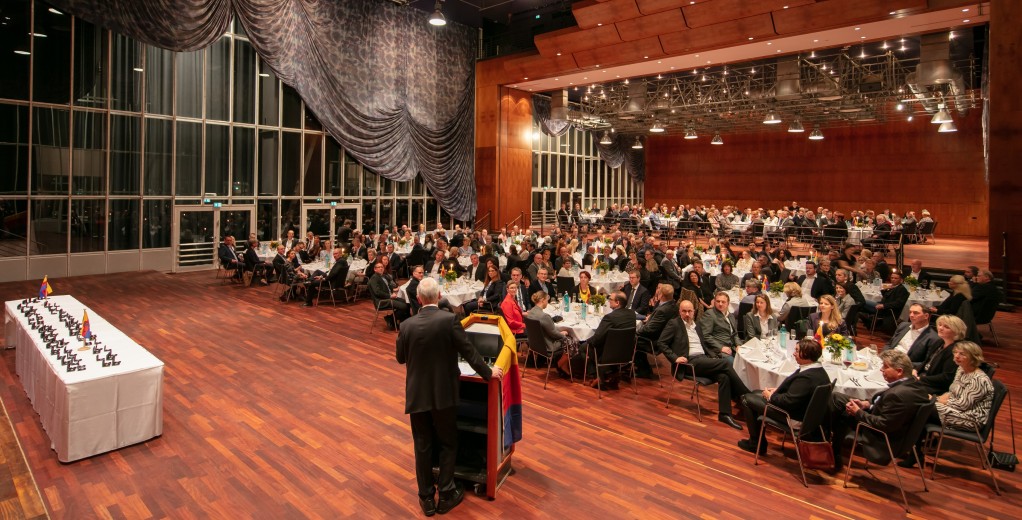 The MEYER Group has once again honoured numerous employees who can look back on many years of service with the company.
After a break of two years due to Corona, an event was held again at the Forum Alte Werft in Papenburg for the long-serving employees.
The employees who celebrated their 25th or 40th anniversaries in 2020 and 2021 were also present. From 2020 to 2022, a total of 228 employees celebrated these anniversaries. 82 of them have been working for the MEYER Group for 40 years, 146 for 25 years. This brings the jubilarians' shipbuilding experience to 6930 years!
In a speech in which he looked back on the development of the shipyard over the past decades, Bernard Meyer thanked the employees for their many years of service and presented them with corresponding pins in silver or gold. "With your many years of service and loyalty to the MEYER Group, you are a special case in today's working world. You have worked for our shipyard for decades and thus contributed to the strength of our companies," said Bernard Meyer in his address to the jubilarians.
2020
25 years
Andre Hinderks, Andreas Hosemann, Carsten Knoblauch, Christian Otten, Detlef Krumminga, Eric Hempel, Erwin Kuper, Folker Hauschild, Frank Bahnes, Frank Christ, Frank Dreyer, Frank Gronewold, Gerd Pennemann, Hans Focken, Hans-Georg Plaisier, Heino Kaspers, Heinrich Kocks, Heinz Hinrichs, Holger Brelage, Holger Klaassen, Jan Connemann, Jens-Uwe Eden, Jochem Lübbers, Johannes Pruin, Jörg Hebbelmann, Jörg von Höveling, Jürgen Müller, Jürgen Storz, Karin Blendermann, Klaus Dickebohm, Klaus-Dieter Thesing, Klaus-Werner Weichers, Manfred Meyering, Marc Sellere, Martin Damerau, Meinhard Kruse, Michael Hebbelmann, Michael Springfeld, Ralf Bolz, Ralf Rauert, Thomas Hillebrand, Tomas Sanders, Torsten Schubbert, Ubbo-Remmer Tjarks, Uwe Petrikat, Uwe Wortmann, Waldemar Uskich, Waldemar Wilhelm, Werner Tischner, Wilfried Leising, Wilhelm Geiger, Wilhelm Kromminga, Wladimir Boxhorn, Zenon Szafranek
40 years
Berend Wessels, Bernhard Buskohl, Bernhard Ganseforth, Bettina Jansen, Christian Hillebrand, Christian Warnders, Evert Nanninga, Franz Wolters, Frerich Hessenius, Georg Warnders, Gerhard Decks, Gerhard Eichhorn, Gerhard Schmehl, Gerhard Spieker, Gerold Schütte, Hans-Albert Schröder, Heidi Knoop, Heinrich Albers, Heinrich Pott, Heinrich Richerts, Heinz Janowski, Heinz Neef, Heinz-Wilhelm von Hebel, Hermann Wendt, Hermann-Josef Poelmann, Hinrich Hahn, Holger Watermann, Ingo-Helmut Pusch, Jan Timmer, Jan van Anken, Johann Thieke, Johannes Rosenboom, Josef Siemer, Lukas Nee, Lüpke Geerdes, Manfred Eichhorn, Manfred Hockmann, Peter Meyer, Peter Schoormann, Ralf Berlage, Richard Wiels, Theodor Friesenborg, Uke Meinders, Uwe Leemhuis, Waltraud Schröder, Werner Schaub, Wilhelm Hillebrand
2021
25 years
Albert Wessels, Alex Völker, Alexander Litzenberger, Alexander Müller, Alexander Schmitz, Bernhard Cordes, Bernhard Eden, Carsten Bron, Claudia Springfeld, Eckhard Sinning, Frank Ewering, Frank Ribbing, Franz Dust, Franz Schmidt, Gerd Goeman, Hans-Dieter Heyen, Heiko Haak, Heinz-Georg Wehldreyer, Helmut Schwagmann, Hermann Weseler, Hubert Borken, Ingo Bunger, Jan Kuiper, Jens Geuken, Jens Strohschnieder, Joachim Heuermann, Jörg Dickert, Jörg Reck, Jürgen Kösters, Kai Engels, Karsten Sander, Karsten Winkelmann, Manfred Ritz, Marko Götz, Markus Specht, Marlene Borchers, Matthias Groen, Matthias Meinders, Olaf Janssen, Olaf Sinnigen, Peter Stephan Hackmann, Ralf Ahrens, Ralf Schmitz, Sergej Fibich, Silke Müller, Soermed Arlinghaus, Stefan Meyering, Stefanie Prahm, Thomas Bloem, Thomas Fennen, Thomas Krüger, Thomas Murra, Thomas Redlich, Thorsten Bonk, Thorsten Cordes, Torsten Kramer, Udo Janetzki, Udo Korporal, Ulrike Walker, Viktoria Schlese-Wilhelm, Volker Weers, Werner Becker, Wilhelm Brink
40 years
Arnold Festers, Bernhard Hillebrand, Dieter Ostendoerp, Eggert Willems, Friedrich Meeuw, Gerhard Beerens, Gerhard Klaaßen, Hans-Günter Hitzschke, Harald Kampling, Heinrich Drost, Heinrich Lübbers, Heinz-Friedrich Siemens, Heinz-Otto Meeuw, Helmut Siemers, Hermann Böhle, Hermann Nee, Hermann-Josef Evering, Jakobus Schmidt, Joachim Hörholdt, Johannes Jansen, Johannes Müßing, Karl-Heinz Korte, Leopold Hegemann, Manfred Graß, Meinhard Ostendorp, Reiner de Riese, Theo Santjer, Theodor Sonntag, Thomas Kösters, Udo van der Schüür, Uwe Kitzler, Wilfried Lalk, Wilhelm Brand
2022
25 years
Andreas Ammersken, Bernd Schürmann, Boris Wedel, Dennis Wieckmann, Dieter Schmidt, Elke Schmitz, Hans-Georg Rahing, Hartmut Becker, Heiner Boekhoff, Helmut Oltrop, Hermann-Jürgen Geisemeyer, Holger Hülsebus, Holger Kaspers, Holger Walker, Jan-Helmut Franken, Jannes Muising, Jens Siemers, Jörg Heidelberg, Kai-Uwe Wessels, Marco Müller, Mario Arends, Matthias Gernand, Menno Aeikens, Sergej Merkel, Thomas Haats, Thomas Reinert, Thomas Wessling, Uwe Tirrel, Werner Haseborg
40 years
Helmut Häring, Theodor Platt